Programme overview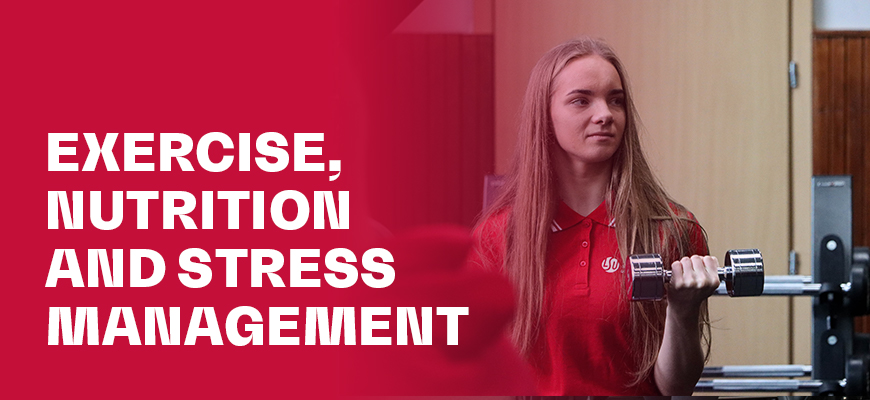 Objectives
Our next-generation degree program prepares a modern health coach who will be able to improve human health not with drugs, but with the most effective non-drug strategies based on the latest world-class science, including the effects of sustainable exercise, nutrition and stress management technologies.
Competences
Exercise, Nutrition and Stress Management study is an interdisciplinary programme. The competencies of graduates overlap in Sports, Education, Psychology, Public Health and Management areas. In this way, the programme provides a huge advantage to students compared to other similar study programmes. Programme competencies: Reflection/ Professional orientation/ Assessing/ Changing behaviour/ Research/ Development and innovations/ Entrepreneurship/ Policy making/ Comprehensive knowledge and management of ideas/ Health enhancing physical activity.
 Distinguished features
To educate a bachelor of sports (Health and fitness trainer) with theoretical and practical knowledge and skills to effectively design, apply, and improve integrated exercise, nutrition, and stress management programs.
Career opportunities
The competencies developed will enable graduates to flexibly and quickly adapt to changes in the labour market, be employed as healthy lifestyle advisors and educators in private or public companies or business establishments, private and municipal sports and fitness centres, spas, beauty centres, companies which arrange recreational activities, and rehabilitation institutions. It will be possible to continue studies for a master's degree in various fields.
Admission Requirements
Admission procedures Degree of study and deadlines Acceptance (correction) of applications for participation in tenders and registration of documents.
Fill in and submit the online application form.
IELTS Min score: 4.5.
TOEFL Min score: 72.
Apply for and submit the recognition document of foreign qualifications issued by SKVC.
Participate in SKYPE interview.
Receive letter of acceptance.
Apply for and receive National D visa if needed.
Come to Lithuania and start your studies.
Autumn Intake Deadline
2023-06-30
More Information