Programme overview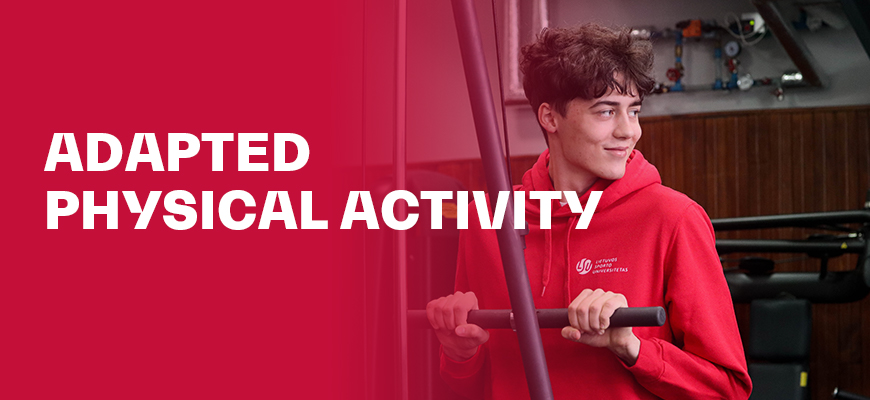 OBJECTIVES
This is a unique university study programme with the aim to train graduates in adapted physical activity (APA) who are capable to perform independent research, and work as leaders and experts in the field of empowerment of persons with disabilities for pursuing independence, equal rights, and opportunities as well as advocacy in order to maintain an active, healthy lifestyle.
COMPETENCIES
Ability to use advanced modern tools for testing and assessing biosocial and social functions, emotions and behavior, and physical capacity in persons with disabilities.
Knowledge and understanding of the provisions of the Convention on the Rights of Persons with Disabilities and their application of persons and their application in terms of equal opportunities and social inclusion.
Ability to critically evaluate and affect social policy in cases where discrimination or segregation of persons with disabilities is observed in society.
Knowledge of strategies for the organization of inclusive physical activities for persons with disabilities and awareness about the possibilities for using them to sustain the physical condition of persons with disabilities through cross-sector collaboration.
CAREER OPPORTUNITIES
The learning outcomes of successful graduates relate to working independently to conduct research and/or continue third-cycle studies, making decisions based on research results, assuming researcher, the management, or expertise responsibilities, and establishing themselves in the labor market (either as employed persons or employees). The potential employers of APA study program graduates are non-governmental organizations for people with disabilities, their branches, and day-care centers, public institutions of social protection, education, and other departments that are required to implement international obligations in the areas of equal rights and opportunities for the country's disabled people, as well as socially responsible private institutions in preparing and carrying out projects and activity programmes and other organizational activities.
Admission Requirements
Admission procedures Degree of study and deadlines Acceptance (correction) of applications for participation in tenders and registration of documents.
Fill in and submit the online application form.
IELTS Min score: 4.5.
TOEFL Min score: 72.
Apply for and submit the recognition document of foreign qualifications issued by SKVC.
Participate in SKYPE interview.
Receive letter of acceptance.
Apply for and receive National D visa if needed.
Come to Lithuania and start your studies.
Autumn Intake Deadline
2023-06-30
More information